Understanding Joint Sizes and Genders in Glass Pipes: A Guide to Compatibility and Attachments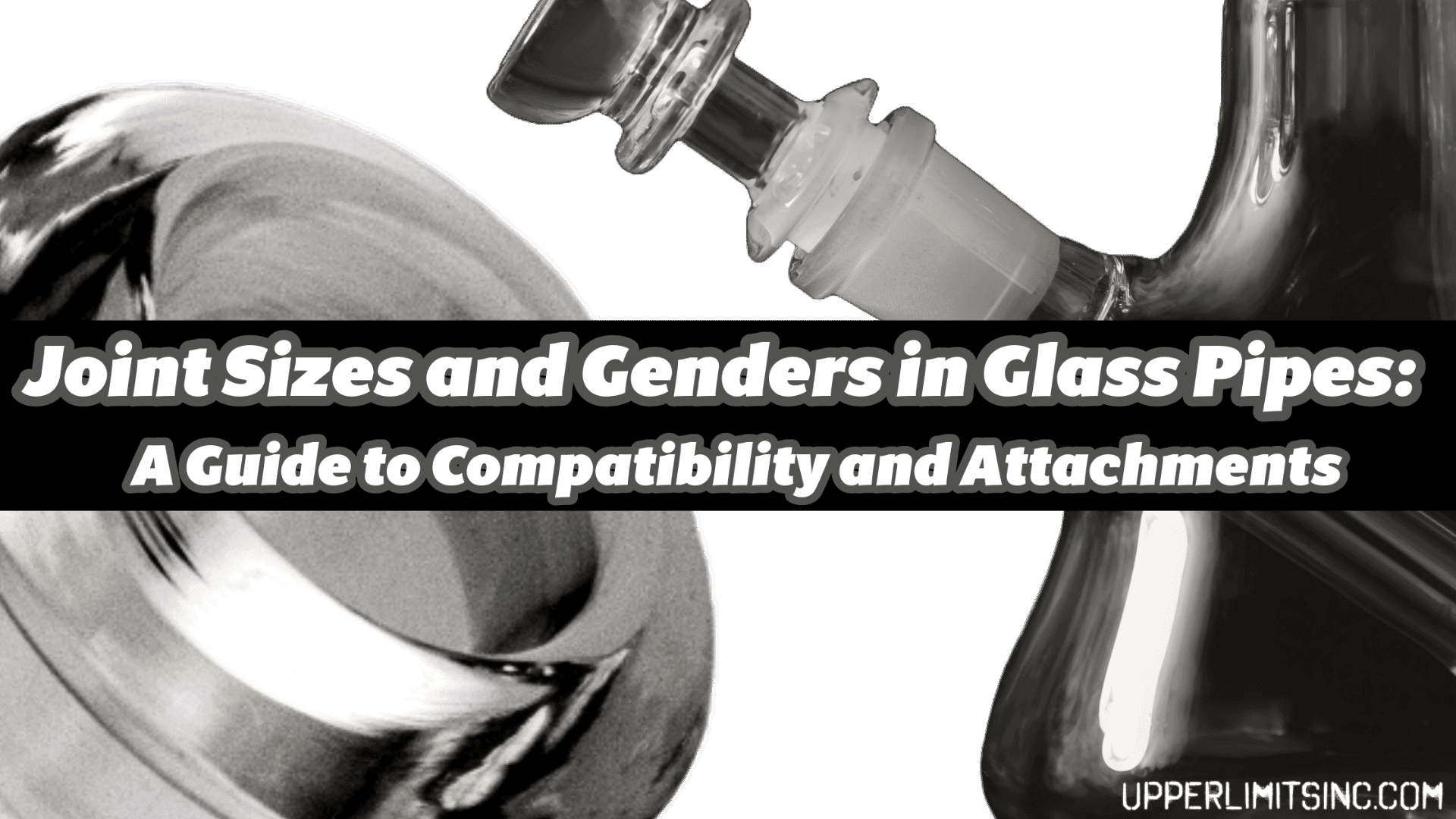 When you're new to the world of glass pipes, the terminology can be as cloudy as a room after a good session. One area that often confuses newcomers is the joint sizes and genders of glass pipes and the compatibility with various attachments. Let's clear the air with an easy-to-digest guide.
Joint Sizes: The Basics
Glass pipes come with joints in different sizes, which are crucial for attaching the bowl, downstem, or other accessories like ash catchers. Here are the standard sizes you'll find:
-10mm – Often called a 'micro' joint, this is the smallest standard size.
- 14.5mm – A common size for many pipes, referred to as a '14mm'.
- 18.8mm – The largest standard joint, usually just called '18mm'.
Male vs. Female Connections: Knowing the Difference
Just like in electronics, glass pipes come with male and female connections:

- Male Joints
- Stick out from the water pipe
- Compatible with female accessories
- Typically used for dab rigs
- Female Joints:
- Indent into the water pipe
- Compatible with male accessories
- Common in traditional bongs
Compatibility and Attachments
Choosing the right attachment for your pipe depends on the joint size and gender:
- Bowls and Domes: Must be the opposite gender of your pipe's joint and match the size.
- *Downstems*: Typically have a male end that fits into a female joint on the bong.
- *Adapters*: Can change the gender or size of your joint to fit different attachments.
- *Ash Catchers*: Must match the joint size and be the opposite gender of your bong's joint.
Tips for a Perfect Fit
- **Measuring Joints**: Use a penny; if it fits into the joint, it's an 18mm. If it doesn't but sits on top, it's a 14mm. If it's much larger than the joint, you've got a 10mm.
- **Compatibility**: Always confirm the size and gender of both the pipe and the accessory before buying.
- **Adapters**: Don't shy away from an accessory you love because of size incompatibility; adapters are great solutions.
- **Tightness**: Ensure a snug fit, but don't force attachments together to avoid breakage.
Conclusion


Understanding the different joint sizes and genders on your glass pipe ensures that you can easily find compatible attachments and enhance your smoking experience. With this guide, you're well on your way to becoming a glass pipe guru. Happy smoking, and remember to check compatibility for a seamless fit every time! Browse our selection of Glass Pipes and Glass Pipe Accessories online today!